Invite your kids to explore their creativity as they learn all about the world's most famous art & artists.
Art history has a reputation for being stuffy, snooty, and snoozy.
But it doesn't have to be that way at all! It shouldn't be. And, in The Studio, it isn't.
Kids in The Studio have fun with art.
We use a playful approach to art appreciation that:
invites kids to look closely at art and get curious about it

encourages interest-led art conversations

inspires critical thinking, originality, and creative problem solving through hands on activities
All of our art projects are based on open-ended prompts that allow your kids to interpret and create in a way that's meaningful to them.
What is The Studio?
The Studio is Art History Kids monthly membership that introduces you and your kids to a new (super fun and engaging) art history topic each month, and invites kids to explore their own creativity through curiosity based conversation and open-ended hands-on activities!
It's your own personal guided tour – showing you the art history topics that are most interesting to kids, pointing out the highlights of the art, and providing you with fun project ideas – each and every week.
It allows busy (and non-artsy) families to have SO MUCH FUN exploring art together!
Most homeschoolers understand the value of including art in their curriculum.
It helps kids to do better in all other school subjects.

It is a wonderful outlet for big ideas and feelings they may not have the words to express.

It encourages a love of beauty, an appreciation for culture, and a respect for creative expression of all kinds (dance, theater, music).

It teaches kids to observe carefully, analyze what they see, and concisely verbalize their thoughts.

It helps them to become decisive when taking action.

It invites them to explore the world beyond their hometown... looking at different countries, communities, and points of view.

It teaches kids to be flexible and try new things when first attempts don't turn out the way they expected.

It gives them confidence, and a sense of mastery when they create art that expresses their ideas the way they intended.

But here's the problem so many homeschoolers face: how can you introduce your kids to famous works of art in a meaningful way when you never learned about art in your education?
Maybe you've searched Pinterest for inspiration, only to end up more overwhelmed by dozens of ideas that look amazing on screen, but don't seem to teach very much.
Or you've found some great YouTube tutorials, but your kids find the structure too limiting. They want to create their own art, not just follow the directions on a demonstration to end up with a project that looks exactly like the example.
You can explore art with your kids (in a way that's meaningful AND fun) even if...
you consider yourself to be 'creatively challenged' because don't have a background in art, and you don't feel confident teaching your kids about it.

you need an art curriculum that will work for multiple ages and different skill levels.

you worry that you won't have time to include art in your schedule, you don't have enough art supplies, or you think it will be too messy.
If these concerns have held you back from incorporating art as a regular part of your homeschool... you are not alone!
I understand, because years ago when I began homeschooling my son, every art history curriculum I looked at was either educational (but boring), or fun (but light on substance).
I wanted something better – for my kids and for yours – so I created it!

I have a unique perspective. Graduating from an amazing art college gave me a first hand look at the essential elements in creating an inspirational creative environment. (On the flip side, I also know the pain of dragging through a class that's not set up to engage students and help them to reach their fullest potential.) As a homeschool mom, I understand BOTH the unique challenges homeschool parents encounter, and the unique opportunities our children have.
Art History Kids programs are set up to nurture the creativity in each individual child. To introduce them to important ideas and concepts, and then invite them to create something that is meaningful to them.
The good news is this: you're so close to transforming your homeschool art activities into something magnificent. All you need is a roadmap. With a little help, you can confidently and effortlessly introduce your children (of different ages and skill levels) to amazing art each month… even if you don't have a lot of time, a degree in art history, or a fully stocked art room at home!
Here's What's waiting for you inside the Studio
You get a new fun topic to explore each month, broken down into weekly lessons that you and your kids will LOVE.
The activities are completely adaptable to fit your needs. You can spend as much or as little time on them as you like. Work on art each week for 30 minutes, or block out a full day (or two) at the end of the month to hold an in-home art workshop for your kids. The Studio works perfectly with your schedule, and is tailor made for your homeschool lifestyle.
Here's what you'll have access to inside the members' area:
Mobile Friendly lesson plans you can print or view on your devices.
Previous lessons from the past six months!
A growing video library featuring book reviews, technique demonstrations, and guided looks at the art.
Planning pages and a gorgeous printable calendar to help keep you organized.
A private Facebook community where we can connect and chat!
Unlock one bonus lesson from the archives each month.
A 25% discount on other Art History Kids products... every day!
A few of our upcoming topics…
Your Membership Works like this...
A new fun theme to explore each month. Every month, we'll follow the same blueprint.

Week 1- Observation and conversation

Week 2- Learn all about the art, artist, and art movement

Week 3- Connecting the dots (relating our topic to other subjects)

Week 4- Review and explore more

Easy to follow lesson plans delivered each Monday. Begin your week with creativity! It's effortless with lesson plans from The Studio greeting you each Monday morning. You'll practice the art of conversation with pre-planned discussion guides and chat prompts that will lead you in some great art talks with your kids. Never wonder which book to read! Book lists are all researched for you. And, your kids will love the open-ended project ideas every week. They're always process-oriented, so the artistic journey is more important than the destination. Finally, you'll learn to implement The One Thing Theory. It's my secret trick that banishes homeschool overwhelm for good!

Access to six months of past lessons. When you join, there will be 6 months of previous activities waiting for you in addition to the current month's topic.

Unlock archived bundles. Each month you'll be able to download one of the older lessons from previous months in the membership. Once a lesson is 6 months old it moves to our archived library. We've been studying art for 24 months, so there are lots of fun subjects waiting for you.
Imagine the amazing conversations you'll have together and the creative inspiration they'll feel once you dive into your first lesson.
And the fun continues week after week!
This is the most amazing benefit of exploring art with your kids – connecting through creativity!
Enrollment is open
Get access to The Studio for just $23 per month!
(with no commitment - cancel anytime with just a few clicks)
it's Fun for the whole family!
The Studio projects will work for all of your kids, and will support them wherever they are in their artistic development. Your 3 year old can do their version of the activity, and your 12 year old can do something related, but involving more complexity and depth.
No experience needed!
Never taken an art class in your life? No problem! You can learn right alongside your kids. There's no need for any previous art knowledge, and you don't have to be able to draw, paint, or sculpt. You just log in, introduce that week's topics to your kids, invite them to create a project of their own, and enjoy the creative atmosphere in your house that follows.
It Saves you time!
Every homeschool mom has a few subjects she's most passionate about. That's where you shine! Use your energy there, and let The Studio come up with your art activities and lesson plans.
Easy for you, fun for kids.
Open-ended project ideas make teaching and learning a blast! Since there's no right or wrong, everyone just gets to explore. Process oriented activities ensure your kids will stay curious and engaged, because they are invited to direct their learning in a way that makes sense for them.
An affordable option for the whole family!
Have you seen how much an art class costs? For just ONE child?! The Studio offers you all the same learning opportunities at a fraction of the cost. And, as long as you remain a member, your price will never go up (even if membership rates rise in the future)!
You can be an amazing art teacher for your kids... even if you Don't know a Van Gogh from a Miro! The Studio takes care of everything!
What members are saying...
Who is the Studio for?
The Studio membership is perfect for:
Homeschool families

Art teachers who want to include art history

Co-op leaders

Art Studios looking to include more art appreciation

Parents who want to explore art with their kids
Answers to frequently asked questions
FAQ
Q: What if I have questions? A: I'm always here to help. When you join The Studio, you'll only be a quick email away from getting my 1 on 1 attention, and help with any of your art education questions.
Q: What if we fall behind? A: The Studio is self paced. You can't fall behind. All of the information is available for you to re-visit anytime. You can even choose to use previous month's lessons instead of the current month, skip a month if you get busy, or work at a different pace (faster or slower) if you need to. It's open for you and your kids to use in a way that makes sense for your family and your schedule.
Q: What age range is this for? A: I design projects with 5-12 year olds in mind, but anything can be adapted for younger and older kids. You can always email me if you need suggestions, but kids of any age will find the projects fun and valuable.
Q: I'm not very artsy. Will I be able to do this? A: Yes! You don't need to know anything about art... that's what I'm here for! Think of me as your personal tour guide on the best museum tour ever! :)
Q: What supplies will we need? A: All of the project ideas are open ended– and for most activities, your kids are invited to choose the medium they would like to work in. Sometimes we need a special art supply to try out a specific technique. In that case, I'll let you know the week before, so you can make time for a trip to the art store. To get started, all you need are crayons, paints, and paper!
Q: Can I share my membership? A: No. Your membership belongs to you as an individual parent or teacher. If your friends or co-workers are interested in joining us, we'd love to have them! Please invite them to sign up so we can all explore art together. Your membership covers your family (if you are a parent/homeschooler), or your classes (if you are a teacher or studio owner).
Q: Is there a commitment? What if I want to cancel? A: Cancelling is easy, and you can do it yourself with just a few clicks. The membership is ongoing, and you are welcome to join on a monthly or yearly plan. You can cancel any time, and you will not be billed again – but you will continue to have access to the site through the end of your (monthly or yearly) billing cycle. There are no partial month (or year) refunds, but if you join and are unhappy with the program, email me within 24 hours and I will refund you.
Q: Will this teach my kids how to draw/paint/sculpt? A: Well... sort of. I'm not planning to have any "tutorials" in the traditional sense, because I think open ended exploration is so much more valuable. I will sometimes show how to use a different material or medium so your kids will be confident when they experiment with new art supplies, but I won't be guiding them along as we all draw something exactly the same way. The Studio will introduce ideas, and support kids on their artistic journey. When a child is motivated to learn to draw or paint or sculpt, they will learn. And, if they learn these skills from their own internal interest, their unique style will shine through. There's a lot to be said for "copying the masters" as a way of improving the technical aspects of their art, but when you inspire their creativity and they express their thoughts and feelings in their own individual way, their work becomes much more meaningful and important.
Q: How do you know so much about art history... and homeschooling? A: Thank you for asking! I have a degree in Graphic Design from ArtCenter College of Design in Pasadena, and Art History has always been my secret passion. When I started homeschooling my own kids 6 years ago, I realized how fun it is to explore Art History with little kids! But, when I tried to find some lesson plans for us to follow, everything was either way too simplistic and superficial, or too overwhelming and not written with kids in mind. So, I created Art History Kids, and here we are today. I know first hand (from my formal education as well as countless hours in museums) all about the amazing world of art history, and I also know first hand all about the even more amazing world of homeschooling. It gives me endless joy to find new and fun ways to bring those two worlds together in a way that is both educational and engaging.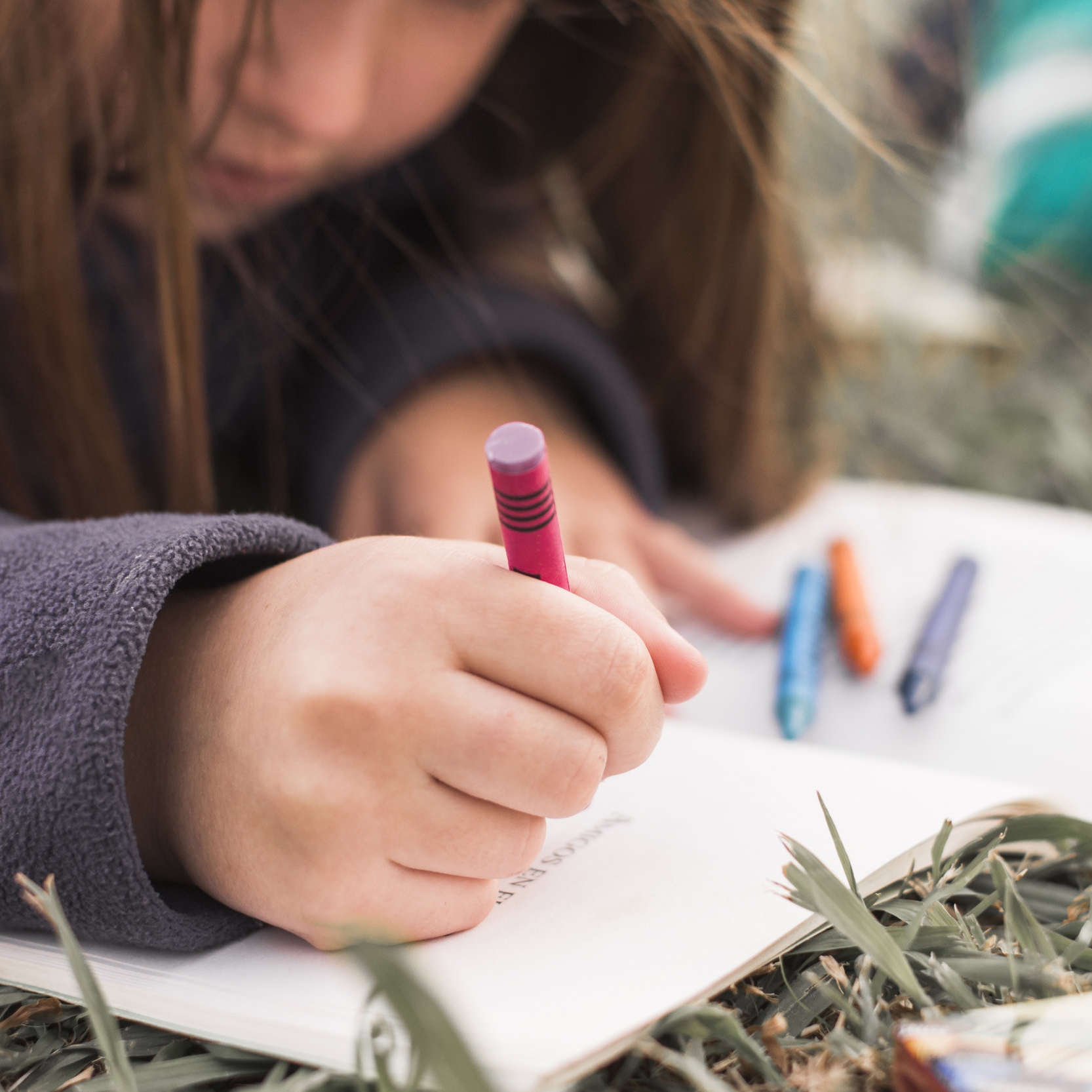 Invite creativity to take the lead in your homeschool this year!
Encourage your kids to express themselves through art as they learn to think critically about the world around them. The Studio makes it effortlessly easy for you and so much fun for your kids!
Get 2 months free when you sign up for a yearly membership! ($230 for 12 months!)
Hi, I'm Lotus – f
ounder of Art History Kids, (coffee fanatic), and homeschool mom to two creative kids. I can't wait to meet you inside The Studio!