Color is tricky.
If you look at green next to blue, it looks one way. Take that same green and put it next to yellow, and you'll be shocked at how different it looks!
[Affiliate Disclosure: This post may contain affiliate links. I participate in the Amazon Services LLC Associates Program, an affiliate advertising program designed to provide a means for sites to earn advertising fees by advertising and linking to amazon.com. By purchasing your books through this site, your price does not increase, but a percentage of your purchase goes to supporting Art History Kids. Thank you!]
This phenomenon in color theory became an obsession for Josef Albers, and he spent 27 years painting the same composition over and over and over again (thousands of times!) using different color combinations.
This series is simply called, "Homage to the Square."
He would carefully label the back of his paintings – much like a scientist – noting down the exact paints he used.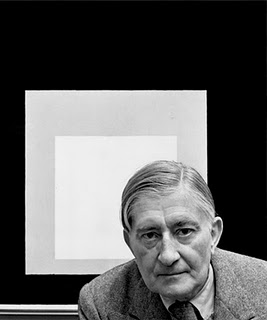 March 19, 1888 – March 25, 1976
This book is the perfect introduction to Josef Albers for kids! It was written by Natasha Wing, who was neighbors with Josef Albers' a young girl in Orange, Connecticut.
She covers his life, his work, and his unwavering interest in color! It's written in a really fun and kid-friendly storybook style, and she concludes the book with an Author's Note (a little background about her personal relationship with Albers), a More About Josef Albers page (where she gives a brief overview of his journey from artist to teacher), a Glossary (which would be really helpful for kids just learning about color theory... terms like hue, intensity, pigment, etc. are all covered), and an Activity Page (where 5 fun Albers-inspired color theory activities are offered).
If you are looking for some color theory projects to do with your kids, or just want to introduce an artist study featuring a painter who isn't usually studied... you and your kids will LOVE learning all about Josef Albers!
Check it out and let me know what you thought!
Remember to join our fun Facebook group! Come say hi, and let's chat about art!
Share this post with your friends!